Rockville to possibly become a sanctuary city for undocumented immigrants
In the wake of President Trump's immigration policies, many county residents are proposing to make Rockville a sanctuary city, an area designated as a safe zone for undocumented immigrants. Sanctuary cities offer expanded social services, such as residence, to the undocumented. Sanctuary city policies are designed to limit cooperation with federal immigration enforcement actions.
Although President Trump signed an executive order in January withholding federal grant money from sanctuary cities, Rockville is considering an ordinance, introduced by Councilmember Julie Palakovich Carr, that would put into law the city's informal policy that limits its police officers from enforcing federal immigration laws. However, Rockville will continue to cooperate with U.S. Immigration and Customs Enforcement regarding the immigration status of criminals and serious offenders.
Rockville residents gathered for a public hearing on March 6 in City Hall, where they voiced their opinions about the city's role in immigration enforcement. As many speeches were made, there was much disagreement over whether Rockville's police force should take an active role in enforcing federal immigration policy. Residents have since created petitions both for and against the sanctuary city ordinance.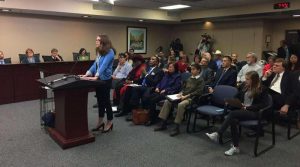 A Change.org petition addressed to the Rockville City Council called "Make Rockville, MD a Sanctuary City," now has almost 1200 signatures. The petition description claims that Rockville should continue to pride itself in being a diverse and inclusive community that is accepting of all people regardless of their immigration status. "Rockville's leaders have an obligation to the community's immigrant families to ensure that city resources won't be dedicated to tearing our city's families apart," wrote Ben Snider, who launched the petition.
Some RM students support the ordinance to make Rockville a safe zone for undocumented immigrants. "I think it's a really good thing that we are going to be able to be a sanctuary city because everyone deserves to have protection," sophomore Clara Paternostro said.
Senior Reet Goraya expressed that Rockville should try to help immigrants, even if they are unable to gain legal status. "At the end of the day, we are all human," she said. "If I knew that my taxpayer dollars were helping other humans out in times of need, then I think it is important, because it's going for a good cause."
Other RM students mentioned that stereotypes about undocumented immigrants should not prevent them from being included in the Rockville community. "Sanctuary cities are a way for this country to fight back against the unfair immigration policies being laid out by our new president," sophomore Russell Corbin said. "We can't look at all immigrants or judge all immigrants, whether documented or not, as one type of person. We can't judge an entire group of people based on the actions of few and so no, they are not bad people. 'They'—what does that even mean? WE are one as a country."
An opposing petition, "Say NO to Rockville Becoming A Sanctuary City," has over 650 signatures. Opponents claim that sanctuary cities violate federal law and give illegal immigrants a false sense of security. "Rockville does not need to break the law to be inclusive," petitioner Brigitta Mullican wrote. Although sanctuary cities give residence to illegal immigrants, city officials cannot prevent federal immigration agents from taking action against the undocumented. The petition description says that illegal immigrants may compromise the safety of the city, while increasing local expenditures.
There are RM students who also believe that Rockville should not become a sanctuary city. "I think that our immigration laws should be honored and while I do agree that many illegal immigrants are contributing to this country, there should be a process where they can easily become legal immigrants, but those who are criminals and not obeying our laws should be arrested and something should be done with them," sophomore Ben Solomich said.
Another student, who wished to remain anonymous, had similar views. She stressed the importance of following the formal immigration process. "I think that federal law should be respected and upheld. We have an immigration process for a reason. Immigrants should be able to come and have opportunities in America but I think that they need to go through the formal immigration process," she said. "Allowing illegal immigrants to stay here is unfair to the immigrants who spent years going through the process to become a legal immigrant."
For many years, the Rockville police department has had an informal policy not to participate in immigration enforcement or ask anyone about their immigration status. The recent proposal to make Rockville a sanctuary city has sparked disagreement within the community about the city policy regarding undocumented immigrants. The ordinance is currently under consideration, and if it is passed, Rockville will become an official sanctuary city.